20 May 2013
New hotel by MDM soon to rise at downtown Miami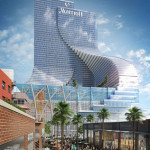 MDM is now planning for a hotel and convention center in downtown Miami. The same developers have started construction on a garage with a ground floor site for Whole Foods.
The news from Miami Herald reported that the MDM Group is slated to purchase the site of the former Miami Arena. The developers plan on building a 1,800-room Marriott hotel with a 1,500 square feet theater, a 2,300-space garage, and a 500,000 square feet convention space.
The plan would connect to the All Aboard Florida passenger rail station just south of the site, according to architect John Nichols. The $1 billion-dollar project from MDM Group is projected to top off within four years.
The heads of the Miami World Center are the current owners of the site. The owners are envisioning an entertainment neighborhood with retail and residences. Miami World Center had also planned a convention facility in the same area before the housing collapse. The same area owned by the principals of Miami World Center was also a potential site for the Sands Hotel Group, which planned a casino in downtown Miami.
According to Nichols, MDM plans to pay the development project with private money. However, since the future hotel is located on the Overtown/Park West Community Redevelopment Agency district, the project is seeing possible funds for improvements in the infrastructure from the same district.
The neighborhood is seeing a lot of renewed interest from developers. Several new condominium projects are now planned for Biscayne Boulevard and those old ones are now being brought back to life.
The news of MDM Group's plan for a hotel could align with a billion-dollar convention center project in Miami Beach. The soon-to-be-approved development would realize an 800-room hotel, commercial and several improvements in the area.
Selda Kirkan
Realtor
phone: +1.954.3056424