23 Jul 2012
The Top 5 Most Expensive Homes in Coral Gables (July 2012)
Located southwest of Downtown Miami is a city called Coral Gables which has been
revered for its exceptional beauty that appeals to many different types of people from
all around the world. Even the city's selection of Coral Gables homes has proven to
be as beautiful as the community in which they are located.
With today's growing value of homes on the property market, property buyers will be
sure to find exception options that live up to prime luxury standards. To help you see
exactly what type of options you can expect to find within the city, we will guide you
through the top five most expensive homes in Coral Gables today which all happen to
be found within the Gables Estates community.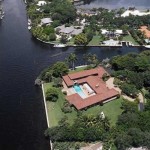 Our list begins with a $12.5 million luxury home that is located along Casuarina Conc
within the exclusive community. It has 6 bedrooms, 6 full baths, and 1 half bath in its
11,183 square feet of living area which is situated upon a waterfront location with its
own private peninsula that offers 1.96 acres of stunning views.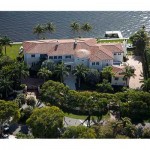 Next on our list is a luxurious bay estate that is going on the market for a little under
$14 million. Located along Arvida PW, this fabulous home is a perfect example of
how people can successfully utilize architecture so that the outdoor beauty becomes a
part of the home itself. It has a total of 8 bedrooms, 8 full baths, and 1 half bath within
its 13,086 square feet of living space. With a spa, dock, garage that can accommodate
up to 4 cars, and a master's bedroom that even has a fireplace., it is definitely an ideal
home for luxury living.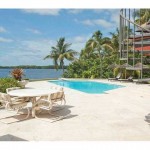 Located along Arvida PW is a beautiful home which has a total of 4-bedrooms and
4 full baths within 5,530 square feet of living area. Built in 1966, the Polynesian-
inspired contemporary two-story home is currently being sold on the market for a
little under $15 million which is inclusive of open bay views and 200 feet of dockage.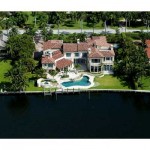 Still along the stretch of Arvida PW is a fabulous home which is being sold for $15.9
million. With 8 bedrooms, 9 full baths, and 4 half baths within its 13,668 square feet
of living area, this luxurious two-story home was inspired by the châteaux of France
which has proven to be perfect style for the waterfront location in which the home is
located. With its own spa, infinity pool, royal detailing, and European cabinetry, this
property is definitely a dream come true for elegance and sophistication within Coral
Gables.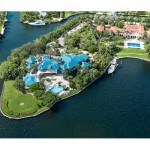 Moving over to Arvida LN, we come to the most expensive of today's Coral Gables
homes which was designed by Chris Fergis. Built in 1996, the classic contemporary
themes found within the home set the stage for prime luxury with its 8 bedrooms, 10
full baths, and 2 half baths which are found within its 15,080 square feet of fabulous
living space. It has a library with its own elevator, private observatory, guest house, 2
docks, heated pool and spa, shooting range, dark room, and game room.
Given the fact that all of today's features are found within the city's exclusive Gables
Estates community, it is clear to see that people who are looking for the highest value
as far as Coral Gables real estate is concerned will definitely find their money's worth
within the waterfront area. Feel free to contact us if you would like to find out more
information regarding Coral Gables homes on today's property market.
Selda Kirkan
Miami Luxury Home Specialist
Selda Kirkan
Realtor
phone: +1.954.3056424