10 Aug 2012
$1 Billion "All Aboard Florida" Project Set To Provide New Railway Service From Miami to Orlando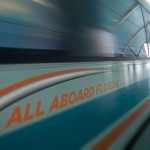 It looks like people who live within the Miami area will find it much easier to visit
Orlando now that a $1 billion project called "All Aboard Florida" is set to build a
privately run passenger train which will run from Miami to Orlando.
The project is set to begin operations by the end of 2014.
The Miami-based real estate and transportation company, Florida East Coast
Industries, has stated that the project is all set after having examined all aspects
concerning the project.
The construction is going to begin in the early part of 2013.
Previous attempts of funding a high-speed rail service to connect Tampa, Orlando,
and Miami have been rejected due to the fact that the state of Florida could not afford
such a plan.
Nevertheless, the new service which has specifically been designed for tourists as
well as business travelers is going to provide a convenient link between two major
urban centers within Florida.
The $1 billion cost for the project will be inclusive of 10 diesel-powered trains which
will each have a 400-seating capacity which will provide an hourly service with first-
class as well as business-class options, gourmet dining, Wi-Fi services, new tracks
and stations in Downtown Miami, Fort Lauderdale, West Palm Beach, and Orlando.
Once the train project is complete, the journey between destination points could be as
short as 3 hours and 3 minutes with train speeds of up to 11 miles per hour which will
be made available at competitive rates against the lowest valued round-trip airfare of
$140-160.
With the All Aboard Florida project set to provide comfort and convenience for
people who are looking to travel within the state of Florida, many believe that there
could definitely be a positive impact to the overall economy, especially since reports
have been made that as many as 50 million people travel between Miami and Orlando
each year.
Selda Kirkan
Selda Kirkan
Realtor
phone: +1.954.3056424